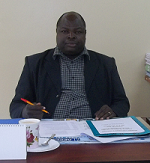 Professor Stanley Ngome Mutsotso (PhD)
Associate Professor of Education (Instructional Technology)
Dean School of Graduate Studies
Department of Curriculum and Instructional Technology
Faculty of Education and Social Sciences
Tel +254(0)721-548-523
Email: smutsotso@kibu.ac.ke
Download CV
The mandate of the school is to coordinate all post graduate matters including development of programmes and admission of graduate students. The programmes on offer are market driven and highly popular. Additional new programmes are being developed by the respective schools and departments. By end of 2014/2015, the school had a total of 340 students, male 135 and female 66. The school expects 10 students to graduate this year. For the academic year 2015/2016, a total of 24 new students, male 15, female 9 have reported.
State of the art SGS boardroom has been established and now in use. The boardroom location is Academic Block B, room ABB 108. Special class rooms have been set aside with special facilities for post graduate teaching. Qualified graduate faculty has been hired per department to teach graduate programmes.
The vision of the school is to become a reputable world class school that offers interdisciplinary space to train and nurture intellectual faculties for knowledge creation and application. The mission of the school thereforeis to provide a strong and supportive infrastructure for post graduate training by encouraging intellectual and social interactions guided by the values of integrity, respect and meritocracy.
The school is committed to ensuring that students complete their graduate studies on time. To realize this,a tracking system of all registered students is being developed to monitor the activities of students and their supervisors including the set timelines. More importantly, the school will remain faithful to its philosophy of originality, truth and innovation and as a custodian of the prescribed Commission for University Education graduate standards.
Featured Board Members
Dean School of Graduate Studies
Director, Performance Contracting
Chairman FGSC-FS
Chairman SGSC SCAI
Chairman FGSC FESS
Chairman SGSC SOBE
Representative FS
Representative Senate
Representative SGSC SCAI
Representative SGSC SOBE
Representative FGSC FESS
Deputy Registrar Academic Affairs